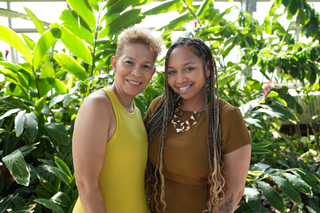 READ ALL ABOUT
ROOTS + FIRE WATER COMPANY
Healthy homes are created from
the infusion of plant love.
The Fire Water Mama, Amanda Battles and the Hula Hoop Diva, Denice Rhodes joined together as mother and daughter to create a family legacy. Both having years of experience in the alternative health and wellness industry, the two begun researching how impactful plants were to a household's wellbeing. Studies have shown that plants whether serving as food or home decor provides the best quality of nutritional sustenance, increase endorphins, eases stress, improves air quality, and boosts positive energy.
With roots in Mississippi farmland, the wellness duo decided to revitalize their family farm that had been at stake of being sold due to lack of use. Together they devised a plan, to farm organic herbs, spices, exotic plants, fruits and vegetables. Cultivating the farm was step one and step two would be the launch of the Roots + Fire Water retail store.
In spring of 2022, our first crop was planted. On July 2nd 2022, the first retail store opened its doors to the Homewood community right outside of the Chicago area. Little did they know tapping into their family's generational love of plants would save their family's legacy and grow into the small, but mighty company that is Roots + Fire Water Co.